This article first appeared on HaltonHillsToday Nov. 16.
In celebration of National Philanthropy Day, the Town of Halton Hills honoured everyone who makes the Youth Centres a vital service in the community.
Sponsors, partners, staff, volunteers and the youth were all spotlighted at a gathering Wednesday evening (Nov. 15) at the Acton Youth Centre. Food, games, merriment and speeches telling the story of the centres reminded attendees of why the centres are worth celebrating.
"We said, 'Wouldn't it be great if the youth had service navigation; if youth had somebody to help them kind of weave through the different complexities of life?'" Town Director of Recreation Services Samantha Howard said to the gathered crowd.
On the surface, the Town's two Youth Centres look like mere hang-out spots for local youngsters. But a closer inspection reveals that they bring together a range of services, programs and organizations under one roof to act as a safety net for them.
Reach Out Centre for Kids (ROCK) provides mental health support. Bridging the Gap Halton helps youth facing homelessness. ADAPT aids young people with addiction-related challenges. Food For Life helps food-insecure kids. All of these organizations act as resources for Youth Centre clients.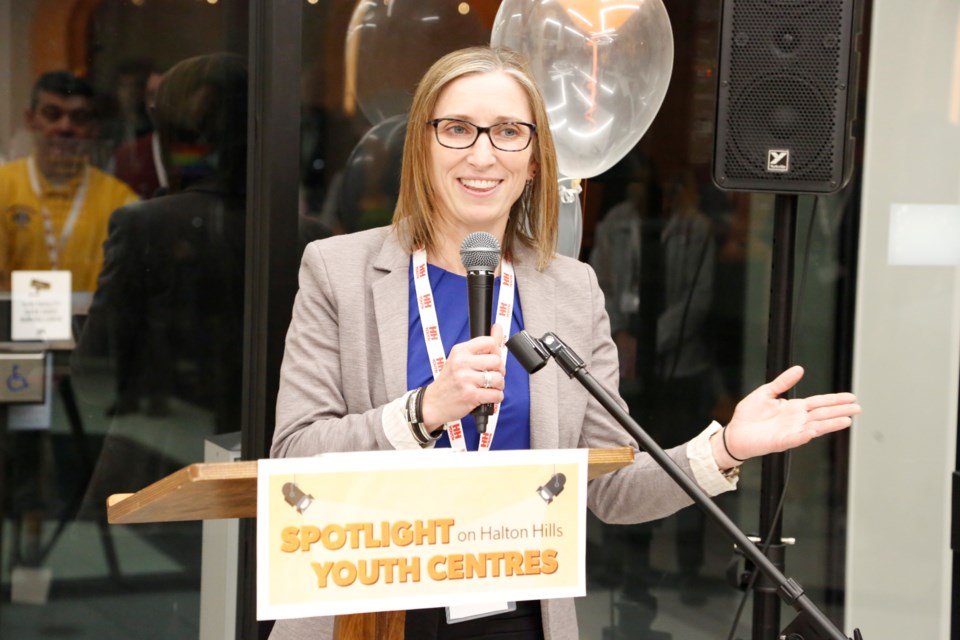 Andrew Davison and Zee Day, both 15, say they have accessed mental health support at the centres.
"Personally, when I come here I talk to counsellors from ROCK," said Day.
She is also part of the Youth Council alongside Davison, a body that gives feedback on youth-related initiatives.
"Things that are upfront are upfront," Davison said in speaking about the centres' low barriers to access.
"If there are opportunities, I do take them."
Among the benefactors present were the Norval United Church and the Royal Bank of Canada's Acton branch. Both provide funding to the centres, but the church provides it specifically for art therapy and youth leadership training programs.
"Rather than making a donation, or a Band-Aid donation, to a charity, we could make an investment," Minister of Youth and Young Families for Norval United Church Jen Auger said.
"As a single mom of an active teenage boy, I started getting texts from my son that he and his friends were stopping at the Acton Youth Centre on their way home from school. Music to my ears," Manager of RBC's Acton branch Samantha Pyke said.
RBC partnered with the Town to fund the leadership program.
Mayor Ann Lawlor thanked everyone who support and run the Youth Centres, invoking the saying, "It takes a village to raise a child."
"You are the village people," Lawlor said, causing everyone present to chuckle.