Unless, a band comprised of members with ties to Halton Hills, set their sights on being weird, alternative and experimental.
Their song, Uttar Pradeshi Diaries, certainly gives the observer that impression. While they used western musical instruments, they managed to capture a uniquely Indian sound, hence the allusion to the Indian state of Uttar Pradesh. One fact tying the members together allows them to be, as lead guitarist Peter Perko puts it, "genre-busting."
"We describe ourselves occasionally as weirdos," Perko said. The name Unless comes from the fact that they don't stick to just one genre and may try something different.
The band is made up of four people. But upon closer inspection, one quickly realizes Unless wears enough hats between them to outfit several more. Marketers, filmmakers, visual artists, authors, bodybuilders, teachers, instrument makers and humanitarian workers are just some of those roles.
Perko's day job as a marketing consultant at his company CA14 recently evolved into something much more. He will soon release a film he directed called The Juke Joint in Acton - A Blues Community in collaboration with CA14 co-founder Eric Doubt. It's about Acton's obscure blues venue Glenfield Farms, dubbed the Juke Joint. "I've been, recently, interested in blues. So I'd like to do more jams with blues," Perko said. To round out his skills, he also plays the accordion.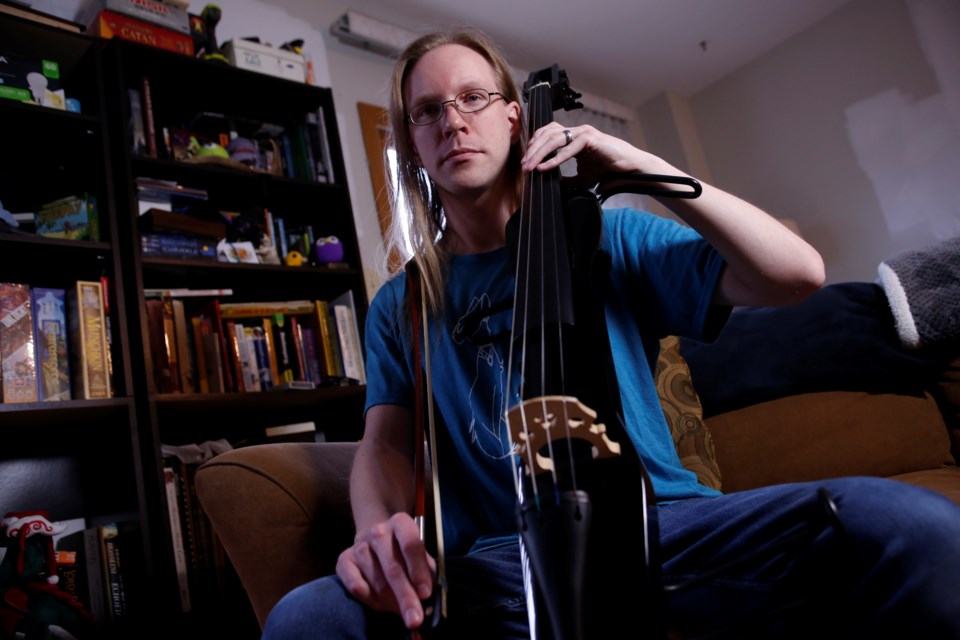 He's working alongside fellow band member McBride "Mac" Hunter, who's providing his videography and editing skills for the movie. The lion-maned Mac is the bassist for Unless. Yet, as will become a theme with the members, he's not limited in his skill set. When HaltonHillsToday met with him, laying on his couch was an unfamiliar string instrument, an electric cello. The likes of Apocalyptica, 2Cellos and Electic Light Orchestra are known for their use of the instrument.
"I started learning the cello not terribly long after college. It's actually partially because my family had opened a music store," Hunter said. "The wholesalers we were associated with actually had a line of budget electric classical instruments. So I found I could get an electric cello for not too much money."
His father was a transportation technology teacher for many years. He went on to shift his trade to musical instrument construction - something that undoubtedly had an influence on young Mac.
He never felt "pulled" into the art by his parents because he was "immersed in music" since he can remember. Harmonicas and dulcimers – a type of string instrument played like a xylophone – round out his repertoire. He pays the bills working at an escape room, but has greater aspirations to be an author. He does not have a title yet and is keeping the plot close to his chest. It will be a fantasy novel though.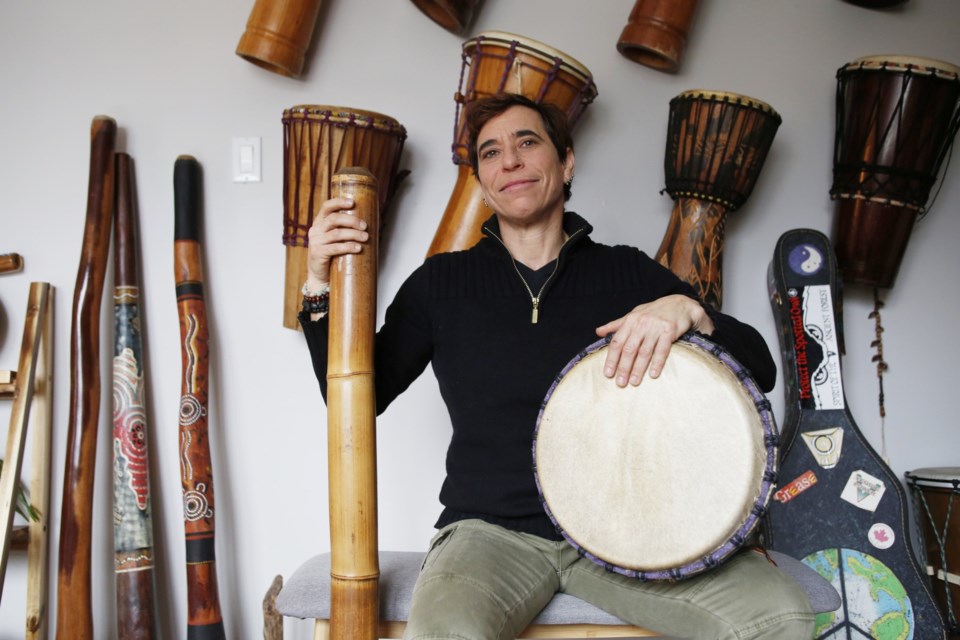 Jessie Steinberg is quite possibly the most energetic of the group. Looking at the sheer number of roles she plays, in the band and in life, she would need to be. Large veins protruding from her arms may as well be a network of wide-gauged pipelines, evidence of her bodybuilding career. She recently received her pro card for winning bronze at an event, allowing her to represent Canada internationally.
She's also a teacher. She uses the great outdoors to teach children about animals, how to get back in touch with nature and even how to figure themselves out. She has created between 15 and 18 programs for corporate team-building, bringing adults into her orbit as well. Finally, she has even done relief work in Central America with the humanitarian relief NGO, Humanity First.
She's a big player of hand drums in the Afro-Cuban style, a skill she learned while studying at York University. Her friends would make drums out of the wood from skids.
"Lo and behold, eventually all of us had these awesome homemade drums and we just start playing," Steinberg said. But, during an extended sojourn to South Carolina, she was mesmerized by the sound of a didgeridoo. After arduously tracking down the musician, she sat with him for 45 minutes to just listen. That day, she walked away with her first "dij," which she still has.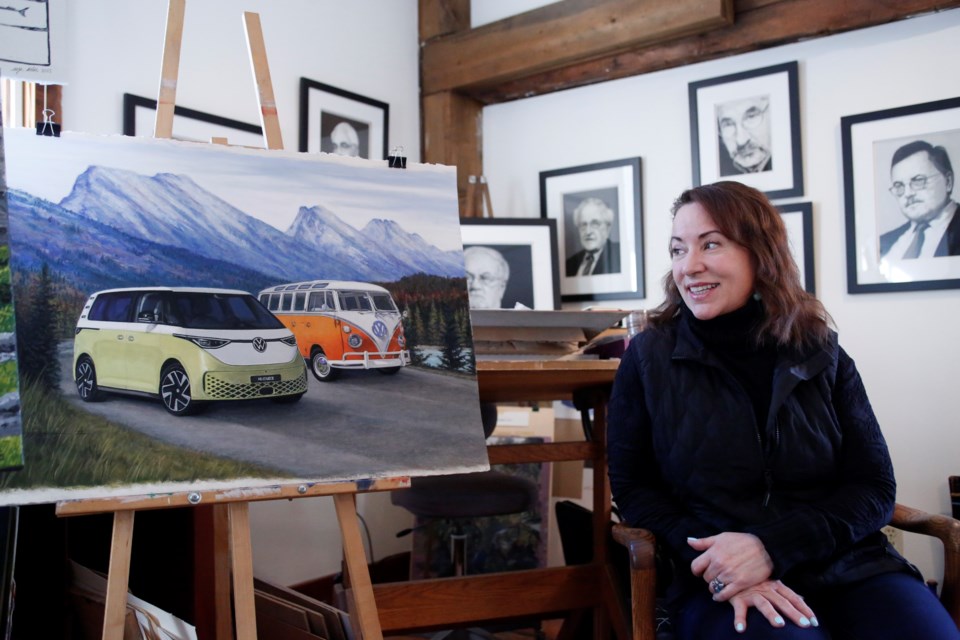 Finally, we have Perko's neighbour at the Williams Mill, Sheri Tenaglia. Visual artist, art teacher and the lead vocalist of Unless are her hats. Her office is a veritable gallery of her works. They have graced the covers of magazines nationally, including a sketch of Noam Chomsky and several other heavyweights. She very recently wrapped up work she did with for automotive manufacturer Volkswagen for their 70th anniversary - a celebration of their famed VW "hippie" van.
She helps students build their portfolios as well.
"A lot of my students have done very well. They've been successful. They've received scholarships; not all of them, but quite a good number of them," Tenaglia said. She lists the likes of Fiona Apple, Aretha Franklin and Radiohead among her influences.
Perko and Tenaglia had been performing as a duet for years before they met Steinberg and Hunter. Steinberg met the pair in 2014 at a fundraiser at St. Alban the Martyr church in Glen Williams. Steinberg's sister-in-law lives in Georgetown. She mentioned Steinberg to the organizer, who then invited her to the event. She was very quickly taken by Perko and Tenaglia.
Growing up in Acton, Mac Hunter's parents crossed paths a lot with Perko and Tenaglia. Word got around that the duet was looking for a bass player, which then found the ears of the parents. Hunter hooked up with the band sometime in 2016.
The band has not been meeting as much as they used to because of the pandemic and busy lives. However, they'll be providing their alternative sound at a fundraiser at Norval United Church on Feb. 11, if you want to check them out. Tickets are $65. To buy them, email Susan Tupling at tupling@swdsl.com.