More than 45 community volunteers from across the region braved the cold and rain Saturday for a tree planting session in Burlington - but they were warmed up by a special federal funding announcement.
Milton MP Adam van Koeverden, on behalf of Minister of Energy and Natural Resources Jonathan Wilkinson, announced a joint investment for projects to be undertaken by Conservation Halton and Trees for Halton Hills that will see more than 122,000 trees planted across Halton Region.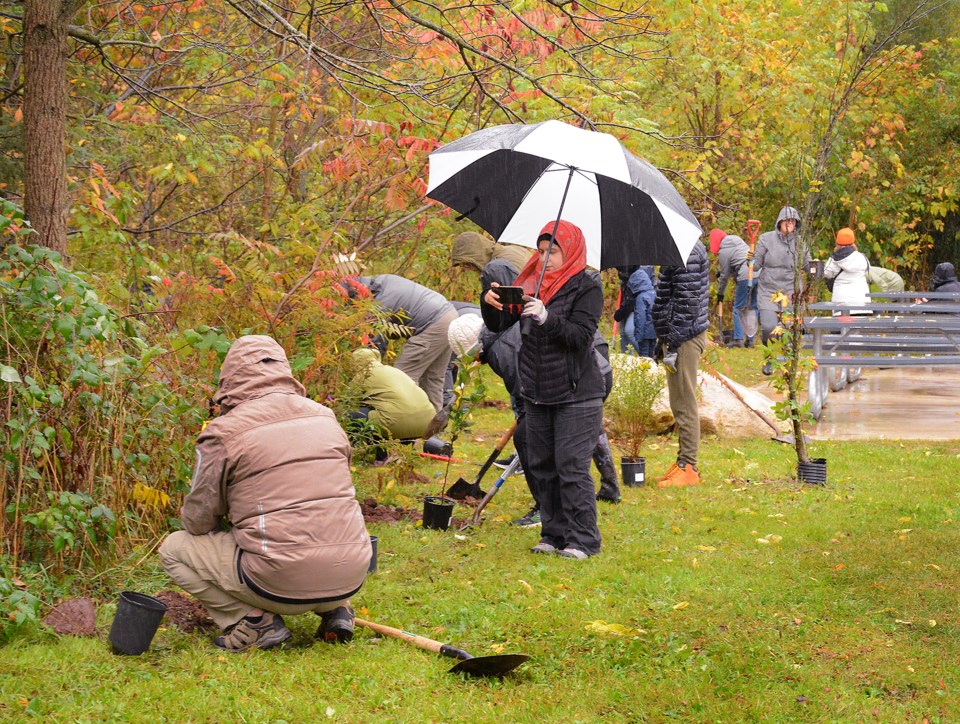 Van Koeverden, who's also parliamentary secretary to the Minister of Environment, noted that Conservation Halton will receive over $600,000 to plant 120,000 trees and shrubs, and Trees for Halton Hills will receive about $150,000 to plant 2,145 trees in Halton's north.
The Halton Hills-based group will undertake four community planting events and work with partners from school boards, municipalities and local businesses to plant caliper trees — older trees with trunks at least four centimetres in diameter — in outdoor learning classrooms.
Van Koeverden was joined by Conservation Halton President and CEO Hassaan Basit, Oakville North-Burlington MP Pam Damoff, Burlington Mayor Marianne Meed Ward, Halton Hills Mayor Ann Lawlor and representatives from Trees for Halton Hills, some of whom came and planted trees and shrubs at Burlington's Hidden Valley Park.
Lawlor, who was the founding chair of Trees for Halton Hills, expressed her enthusiasm about the funding.
"This is a very, very special project for me," she said. "These are my peeps. And I am a tree-hugger from way back. I'm absolutely delighted that the application for the (Two Billion Trees) grant was successful and that we're planting a whole lot of trees in Halton Hills."
Don Trant, current chair of Trees for Halton Hills, estimates that the volunteer group has planted 2,400 trees since it started three years ago. As an outdoor enthusiast, he celebrates the wonder and science of trees. He travelled to Hidden Valley along with dozens of volunteers to plant some trees so that his grandchildren, and the grandchildren of others, will inhabit a healthy world.
The Government of Canada's Two Billion Trees program is a 10-year initiative that aims to have two billion trees planted to help mitigate climate change, clean the air, keep neighbourhoods cooler in the summer and prevent erosion on the banks of rivers and creeks.
Van Koeverden highlighted the importance of working together to combat climate change.
"This is symbolic of our work in conservation and the strong partnerships that help us plant trees throughout the region," he told the crowd. "In planting over 120,000 new trees across Halton Region, we can combat climate change through carbon capture and shield against biodiversity loss."
Basit commented, "We're proud to say as a conservation authority that we have good relations with all levels of government and I think that's what it's going to take to increase our tree canopy, help with biodiversity and broader climate change effects. Most of all, this was made possible by partnerships."
Meed Ward summed it up best:
"We need more trees, and anytime we can get them and anywhere we can plant them is a good thing," she said. "We're so grateful for our partners because we can't get enough trees in the ground on our own so we need to work together. This is a great announcement, a great opportunity, and to see all the volunteers come out is terrific."