Atura Power is planning to make efficiency upgrades at the Halton Hills Generating Station (HHGS).
Project Description
HHGS has been in operation since 2010 in the Town of Halton Hills between Highway 401 and Steeles Avenue, West of 6th Line. It is capable of producing an output of 683 megawatts (MW) to the Ontario electrical grid.
The upgrades will be limited to replacing parts of the existing natural gas fired combustion turbines during their regular maintenance cycle with more efficient parts that will result in an increased output to 710 MW. All upgrades will take place within the existing building and there will be no changes or expansion beyond the existing HHGS footprint.
Atura Power is committed to building a resilient electricity grid in Ontario and is working to address the energy supply shortfall that Ontario will experience in the near future. The proposed upgrades to HHGS are part of Atura Power's efforts to address this supply gap and to make energy production more efficient and affordable.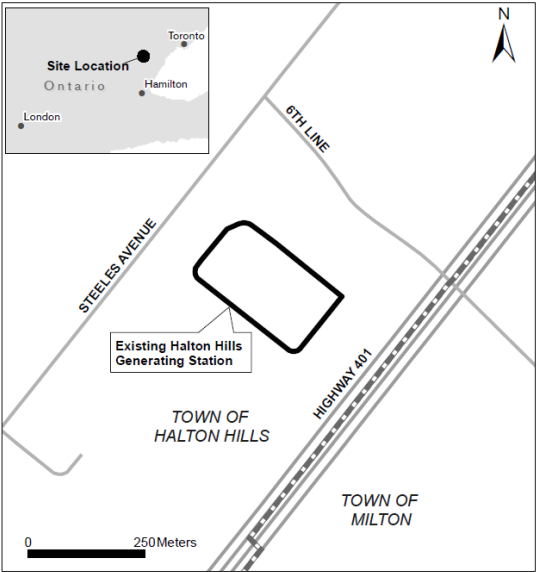 Environmental Screening Process
Since the project will result in a 27 MW increase in the output of HHGS, it is subject to the Environmental Screening Process for Electricity Projects subject to Ontario Regulation 116/01, under the Environmental Assessment Act. This Notice has been issued to communicate the start of the Environmental Screening Process.
Virtual Public Meeting
Atura Power is committed to engaging with Indigenous groups, the public and other stakeholders on all our projects. We invite you to attend an upcoming virtual public meeting to learn more and provide feedback. You can access the link to join the public meeting on the project webpage.
How to Join
Date: Thursday, June 15, 2023
Time: 6:30 – 7:30 pm EST
Project Contacts
If you are unable to participate, meeting materials will be posted on the project webpage for review following the meeting.
Please email your questions or comments to [email protected].
For more information: Visit Atura Power online
Comments and information regarding this project are being collected in accordance with the Freedom of Information and Protection of Privacy Act for the purpose of meeting environmental assessment requirements.