When booking some time away, we're accustomed to carefully orchestrating all the details.
For a cottage stay, comfort is key. You want enough bedrooms so everyone can get a good night's sleep, a kitchen roomy enough to prepare big family breakfasts in and living spaces that can accommodate rainy afternoon board game tournaments and movie night marathons.
Most of us focus on location, price, proximity to the waterfront and driving distance from home, but what if we added one more criterion into the mix? With so many stylish cottage rental listings on the market now, we propose another criterion: interesting or inspirational interior design.
These three Ontario cottage rentals each offer the chance to relax and unwind amidst beautifully curated rooms and décor, heightening the sensory experience and taking your next cottage stay up a notch.
Danish mid-century modern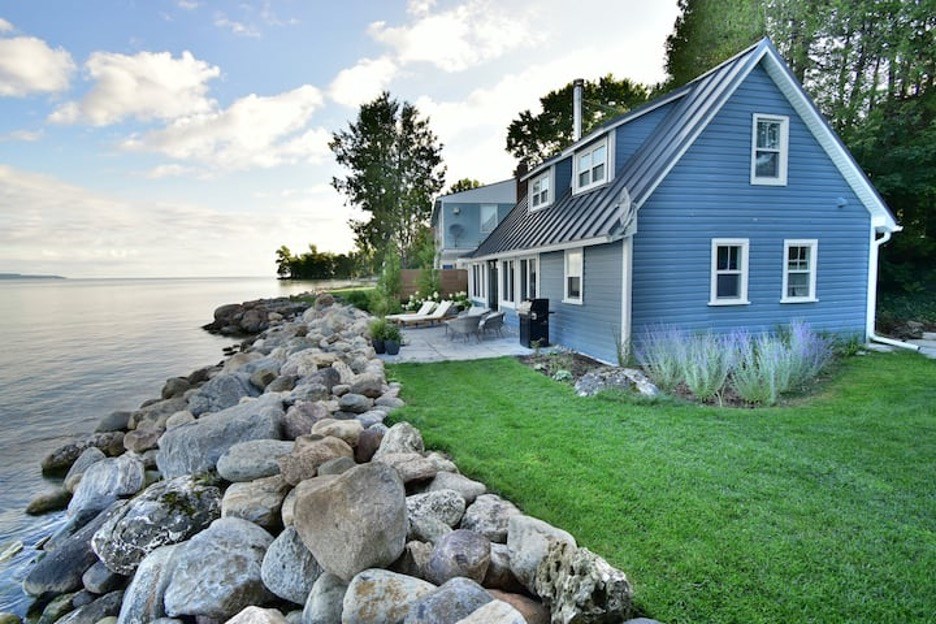 This 3-bedroom, 1-bath modern cottage on Paynter's Bay can host 6 guests. The property borders the lovely Hibou Conservation Area, where you can hike in the forest and along the shoreline, do some birding and enjoy a great sandy beach for the kids. The cottage is just 8 minutes from Owen Sound, boasts panoramic views of Georgian Bay and the nearby Niagara Escarpment is home to several waterfalls.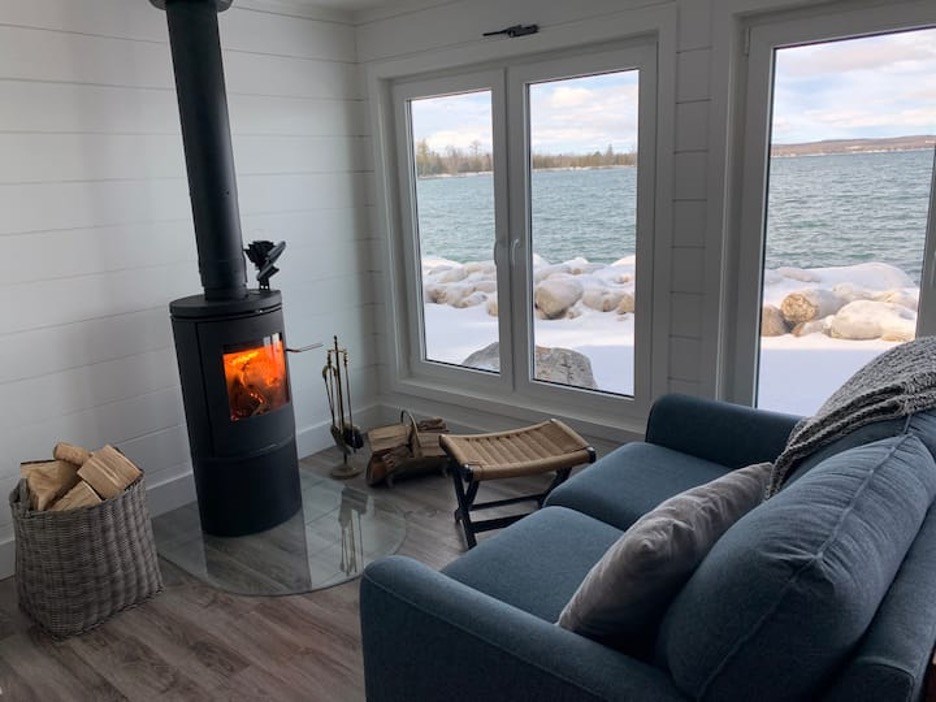 If you're a fan of Danish mid-century modern style, you will love this property in the heart of Grey Bruce County. Cosy and charming, this comfortable space features a gorgeous, traditional Scandinavian Morsø woodstove, which you can lounge in front of while watching the waves just a few feet away. The palette of crisp white walls, warm wood, cool blues and greys, punctuated with splashes of happy colour, is incredibly inviting and soothing. Floor-to-ceiling views of the bay—from any seat on the main floor—are hard to beat.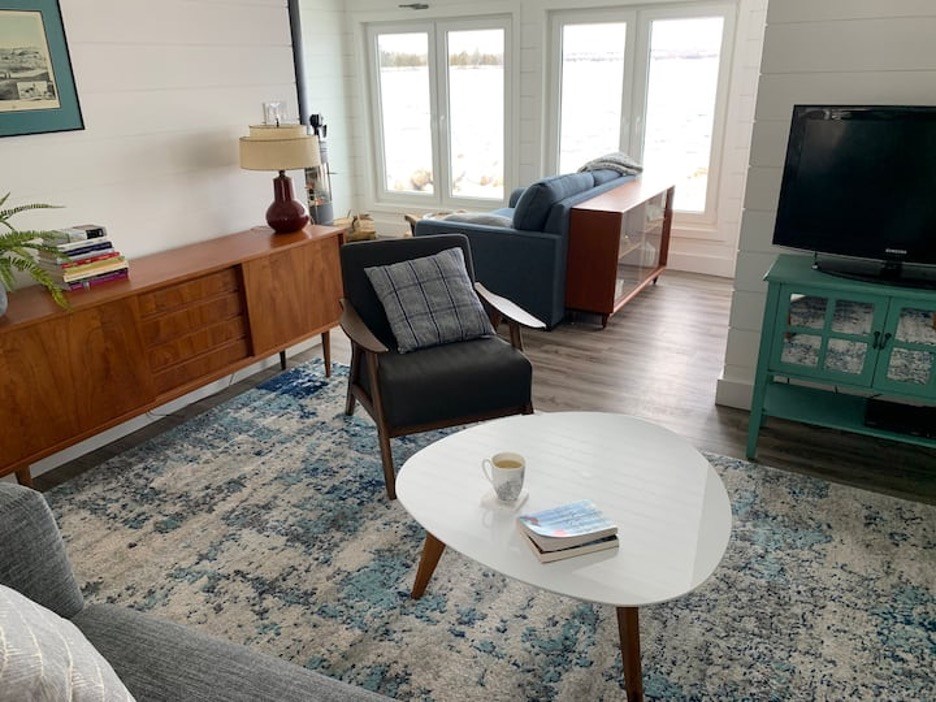 Each of the bedrooms have comfy beds and big windows with waterfront views. Be sure to end each day on the west-facing patio, the perfect place to watch the sunsets.
Coastal chic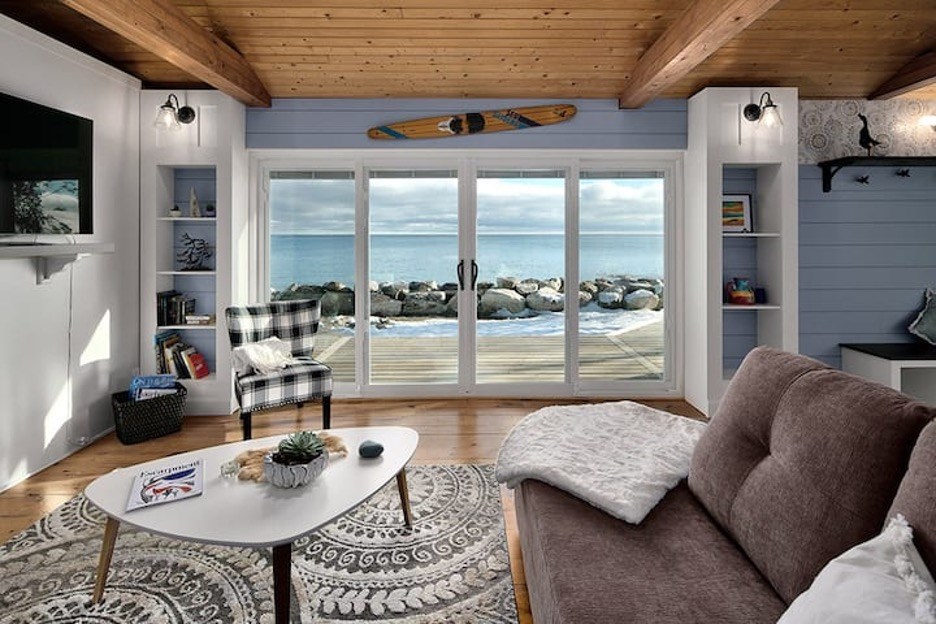 Dreamy waterfront views are the order of the day with this Meaford property, the Water's Edge. This 4-season cottage has 3 bedrooms and 1 bath, hosts 6 (+2 in the summer Bunkie) and sits on the shores of Georgian Bay. No matter what the weather brings, you're guaranteed to be comfortable, as the cottage has a gas fireplace, air conditioning, deck and firepit.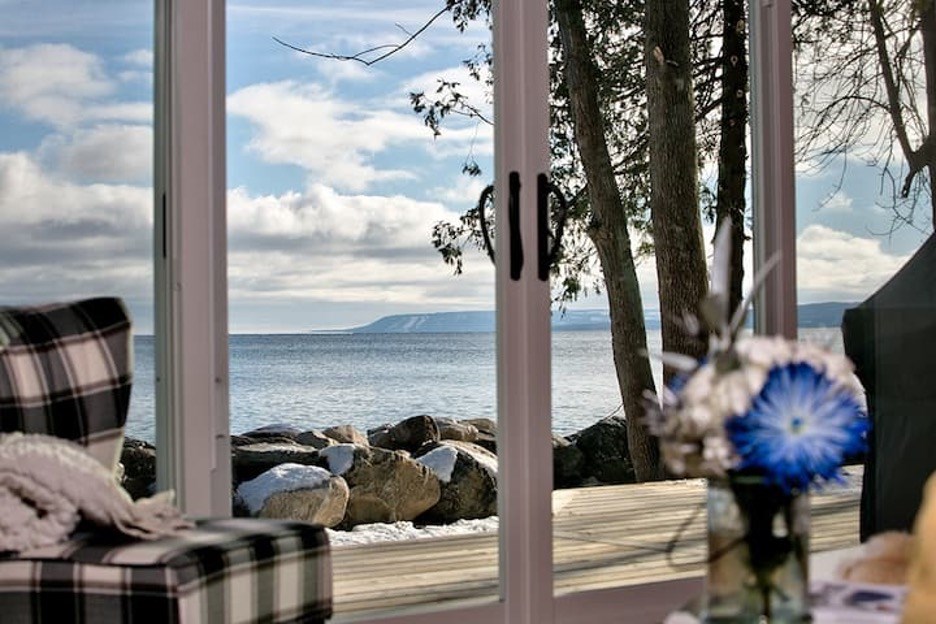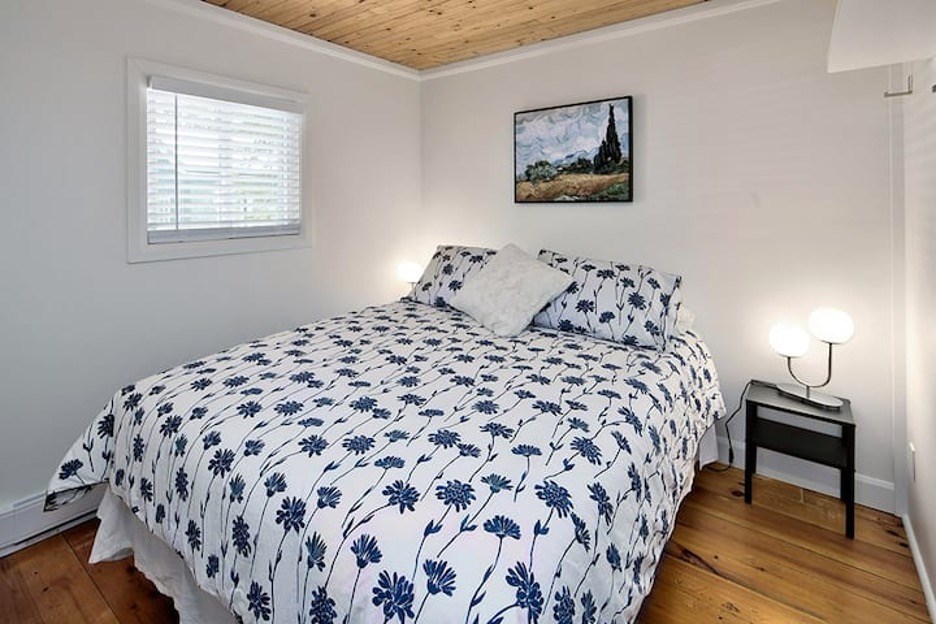 There's no mistaking you're on the water here, as the cottage feels like the ultimate beach or lake house. The décor brings the outdoors in, and you never feel very far from the waves, sun and sky. It is truly the ultimate in coastal chic, with open concept living, exposed wood beams, plush, comfy furnishings and elegant lakeside-themed accents.
Enjoy spectacular views of the bay, the Blue Mountains and the best sunrises. There is 120 ft of private waterfront access and a large deck with a 5-person hot tub, dining and lounge area.
There's lots to do here too, with shopping, entertainment, artisans and incredible local fare all located within a 30-minute drive to Blue Mountain Village. You're also close to the Bruce and Georgian Trails for hiking.
Luxe boutique hotel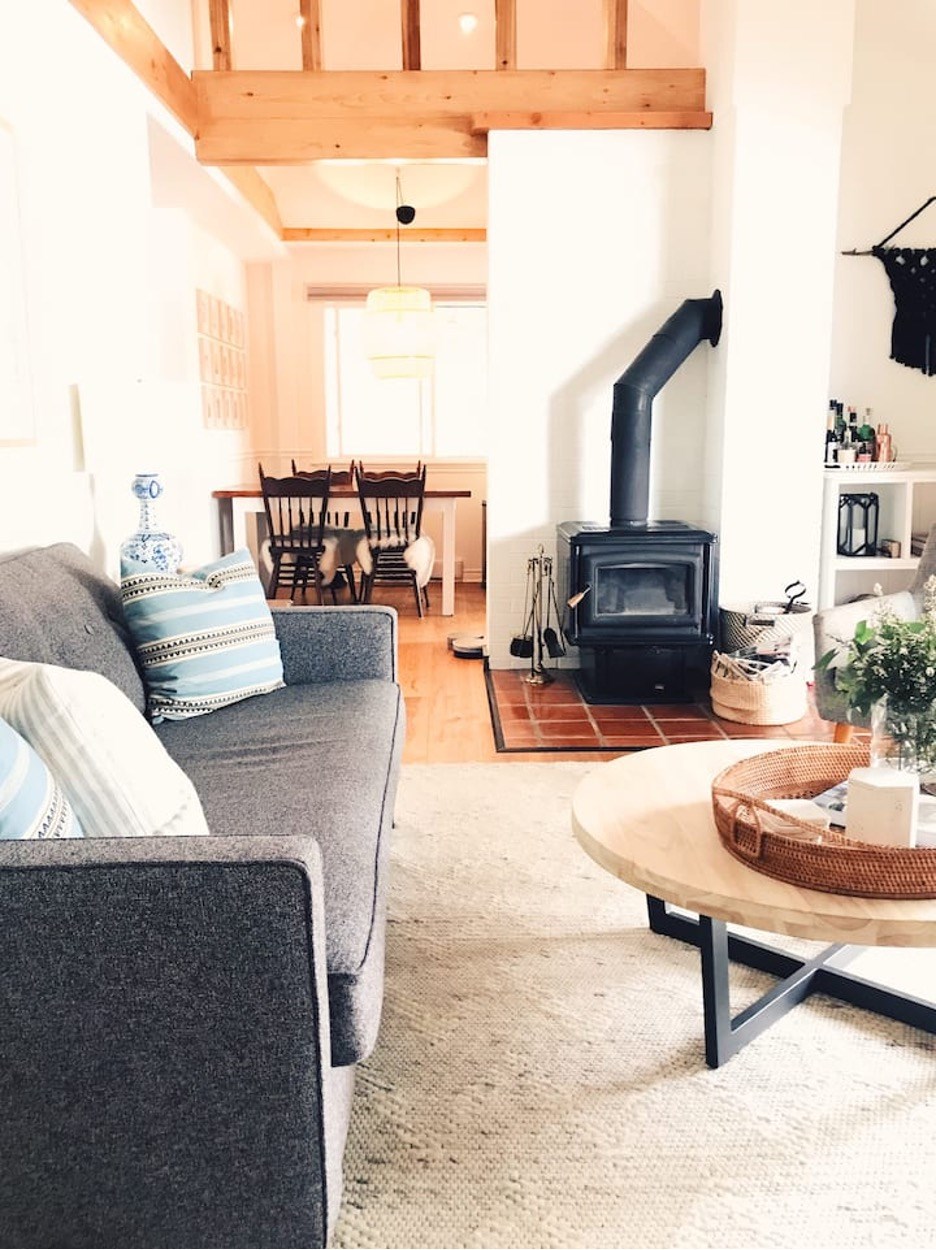 You can have it all—and then some—at this high-style, hotel-like modern cottage in Muskoka. The Leonard Cottage in Bracebridge has 4 bedrooms, 1.5 baths and sleeps 8. The property on Leonard Lake has all the amenities you would find the in the city but with hotel-quality bedding and linens, and lovely island views.
It's a great place for families looking to hang out and enjoy some time together, and there's no shortage of things to keep you occupied here. The lakefront features a dock, beach and a wood-fired Finnish-style sauna. The completely renovated boathouse includes water toys and has a sitting area and a beer fridge. A small beach area beside the water is great for small children, who can wade into the water.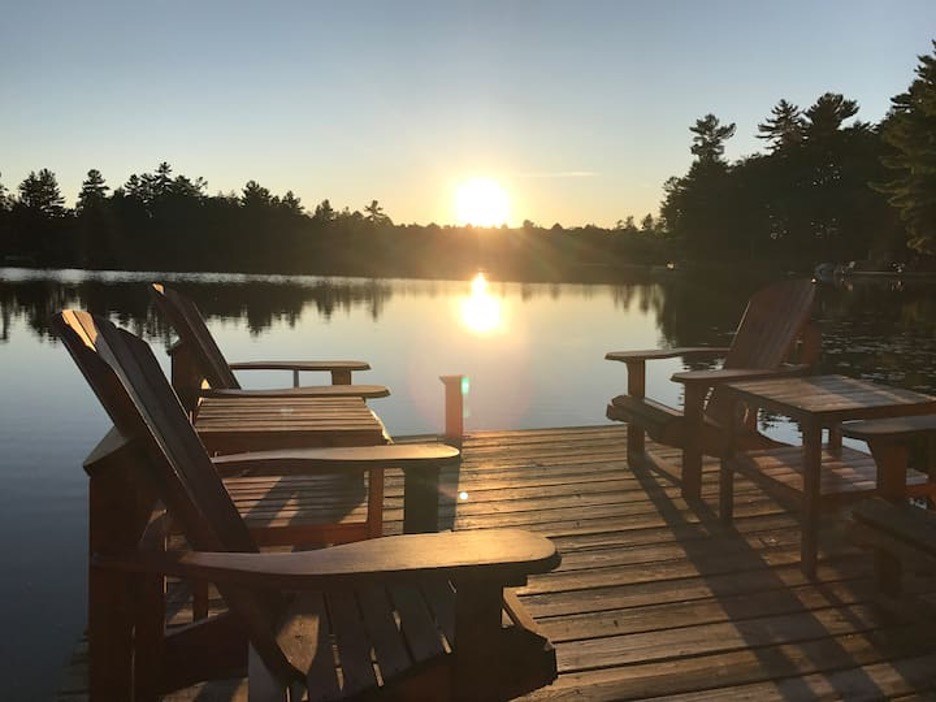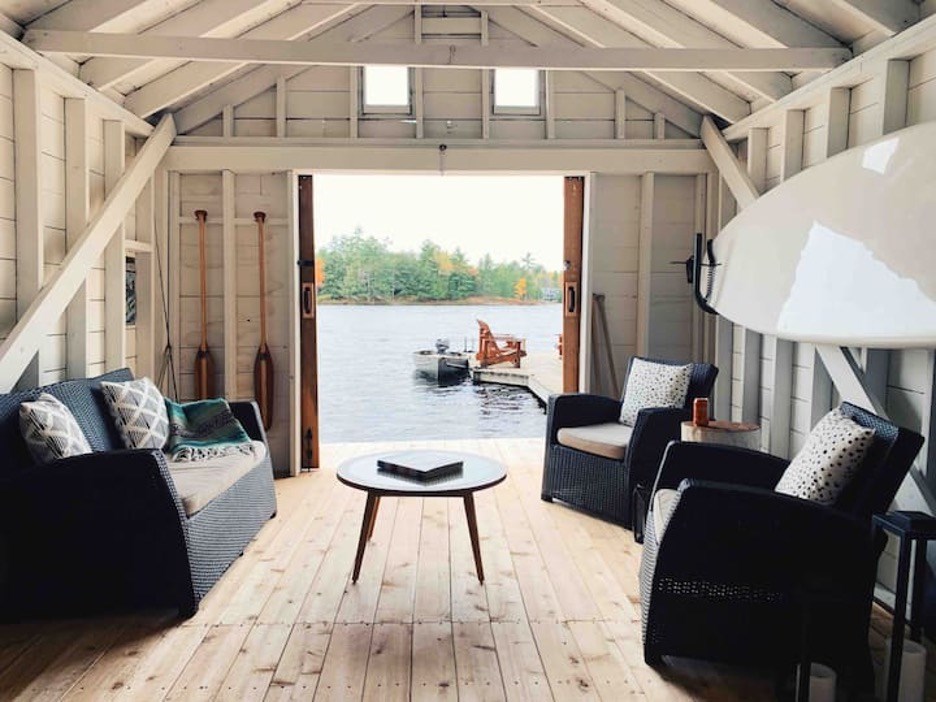 The sunroom is the place to enjoy early evening cocktails; the host reports that the sun bounces off the lake and twinkles through the windows in this magical spot. The home is fully connected, with WiFi, Sonos, Smart locks, Apple TV and a Smart thermostat.
There is 110 ft of private lakefront and the water is 20-60 ft deep, great for swimming, canoeing and water skiing. Located 30 ft from the water's edge, you can live the boutique hotel lifestyle at Leonard Cottage, all while having complete privacy for your group.
Every space throughout this magnificent cottage has been expertly decorated. The home has a real sense of warmth and welcome, with exposed wood beams, a chef's kitchen, elegant furnishings, a wood-burning stove, thoughtful accents and creature comforts throughout.
At any one of these cottages, you're sure to luxuriate in your surroundings, and you're likely to come back with a few inspired decorating ideas for your own home.