If there was an unknown coming into the Georgetown Raiders' season, it was in the defensive end.
With just two returning defencemen, one of which started the season on the sidelines, and a goaltending duo with a combined 13 games of Jr. A experience, the Raiders could have expected a few hiccups early on.
Instead, the Raiders did everything they needed to in spoiling the Niagara Falls Canucks Ontario Junior Hockey League debut, holding their opponents to 16 shots while Finn Marshall recorded a shutout in a 3-0 season-opening win.
Marshall's performance may be the least surprising development. As a 16-year-old, he was thrust into the Raiders' lineup due to injuries at the end of last season and responded with a 7-1-0 record and a .924 save percentage. He even picked up a playoff win in the Raiders' first-round victory over Aurora.
"He was big for us down the stretch last year," said Raiders general manager Mike Dukeshire. "We were fighting to get second place and he was able to come in and play under pressure, so we felt comfortable with him and felt he could step in and play a big role for us."
Marshall will be joined in the crease by Finn Wilson. Like Marshall, he wrapped up his minor hockey career by backstopping a team to an OHL Cup appearance before turning in a strong season with the Jr. C Port Dover Sailors.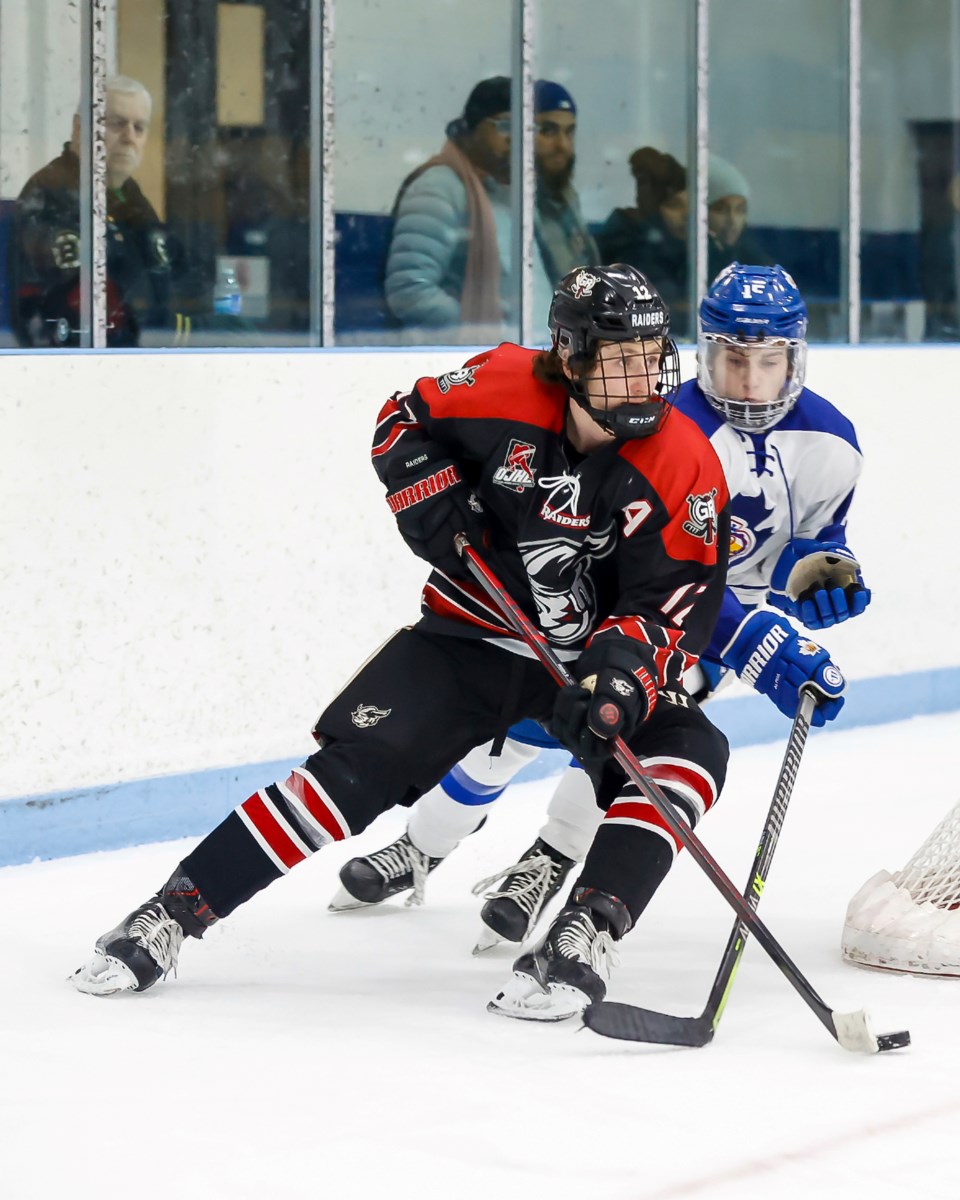 The Raiders' defence will be led by 20-year-old Jack Guvenal, who will captain his hometown team. Guvenal finished among the league's top-10 scoring defenceman with a 43-point season last year. The Raiders' only other returning defenceman, Noah Cochrane, likely won't be back in the lineup until October.
Luke Tuin joins the Raiders' blueline after a season with the Jr. B St. Catharines Falcons. The blueline is rounded out with 17-year-olds Colin Maund, who played in four playoff games as a Raiders affiliate player last season; Sarnia Sting draft pick Tyler O'Toole; and Justin Huynh, who won the OHL Cup with the North York Rangers.
"With Jack, I can't think of a better fit to lead this team," Dukeshire said. "We have a younger D corps, but we still have some guys with junior experience, and they're all very capable."
Despite some big losses up front, including Rhys Chiddenton, who finished second in the OJHL in goals and points, Dukeshire likes the returning group up front. Eighteen-year-old Kristian Lamanna racked up five points in the two games on the opening weekend.
"He came into camp in unbelievable shape so we weren't surprised," Dukeshire said. "We can only imagine what he has in store for this year."
Kaleb Nelson, who averaged more than a point a game last season, scored a late goal that sent the Raiders to overtime in a game they lost 5-4 to the Toronto Patriots.
Gabriel Ciarello, who scored twice against the Patriots, Aaron Andrae, who had four points on the opening weekend, and Quinn Tavares will look to build on a solid season. Dukeshire also fortified the forward group by acquiring a pair of 20-year-old, Carter Real (44 points in 53 games last season) and Luca Rea (37 points in 46 games).
"Rhys Chiddenton leaves a massive hole in the lineup, but that's our ultimate goal is for them to take that next step," Dukeshire said of the forward who is now at Bemidji State University. "But we've added some veteran scoring. We're a much faster team, and (Coach) Shawn (Snider) always has well-structured team."
If the Raiders can bring all that together, there's a chance they could improve upon last season's 39-10-5 record that saw them come up one win short of their first 40-win season since 2017 - the year they captured the league championship.