Watching the OFSAA girls' soccer final in the spring, Steve Vagnini couldn't help but smile.
Between Georgetown's Christ the King Jaguars and Windsor's Holy Names Knights, the St. Clair Saints coach had commitments from six players in the provincial high school championship game.
Coming off a season in which his team went 2-7-1, Vagnini knew the Saints needed a complete reset. So, with only his captain returning, he set about rebuilding the team from scratch. St. Clair entered the Ontario Colleges Athletic Association season with 16 rookies on its 20-player roster.
Among Vagnini's prized recruits was Georgetown's Victoria Walsh.
"We expected big things from her, and she came through," the Saints coach said.
Walsh finished fifth in the OCAA in goals and fourth in points. But to get a true sense of her impact on the Saints, she scored more goals (11) than the Saints did in the entire 2022 season (seven). That contributed to a complete turnaround as St. Clair's posted its best-ever record, 7-1-2. Walsh scored the winning goal in four of those victories.
The social justice and legal studies student's season earned her the OCAA West Division rookie of the year award and a place on the West Division first all-star team.
The Saints have certainly benefited from a decision Walsh made early in her sporting career. She used to compete in both soccer and gymnastics, but chose to focus her efforts on the soccer pitch.
"I feel like I'm more competitive," Walsh said. "I can go out on and show aggression on the field and that's way more fun."
Vagnini said along with her work ethic, that aggression is one of the striker's strengths.
"She's an in-your-face player," he said. "She's not dirty, but she's a shoulder-to-shoulder contact player. She's a small girl, but she'll do anything to win the ball."
In the final game of the regular season, Walsh scored five times and had two assists in a 10-0 win over Lambton.
"She wants to score goals," Vagnini said. "You take her off for rest and she's not happy about it. As a coach, you like that."
Walsh said having Christ the King teammate Brianna Kinsley-Clough join her at St. Clair helped make the transition to college soccer easier. And Kinsley-Clough was another big contributor in St. Clair's turnaround. The midfielder finished second to Walsh with seven goals.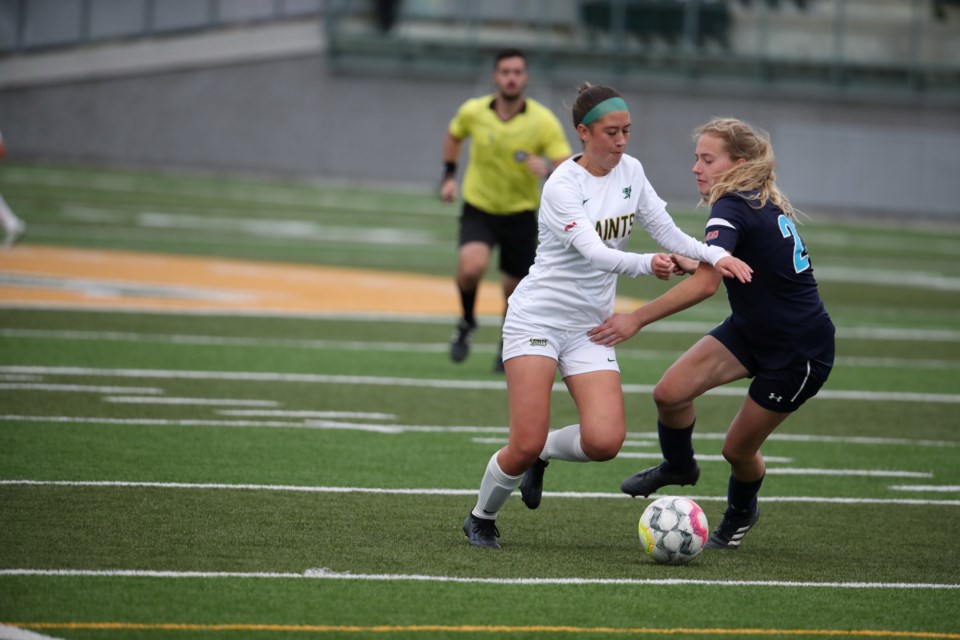 "She's been committed since Day 1," Vagnini said. "With Bri, you tell her something and she gives you the thumbs up and says, 'I'll do it.'"
Kinsley-Clough was recognized with a spot on the OCAA West Division's second all-star team.
Another rookie out of Christ the King also found success in the OCAA. Hailey Greco, a defender/midfielder, scored four goals in six games and won the OCAA championship with the Seneca Sting.
Seneca eliminated St. Clair with a 4-0 win in Friday's semifinal before beating Humber 3-1 in Saturday's championship game.
With its two Georgetown players leading the Saints' offence, St. Clair hopes to bring home the title next year.
And though Walsh and some of her teammates were on opposing sides the last time they played for a provincial title, she said team unity is what has made them successful this year.
"Without having each other's back, I don't think we would have moved on as far as we have," she said. "Winning it would be a mind-blowing experience."